Your Online Guide To The Best Businesses In Toms River NJ!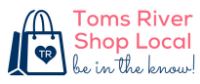 Featuring the best businesses in Toms River NJ. Browse our list of amazing businesses recommended professionals all based right here in your area.
Help us celebrate Toms River's community by shopping at locally owned businesses.
Toms River Shop Local is a call to action for businesses, residents, organizations, and tourists to support our local economy and community.
When you shop at a local independently owned business:
68% of every dollar gets reinvested in the community.
Local chains, 43% reinvested.